GLOBALMEDIAPRO
Globalmediapro is an international online store that sells professional video, audio, photo and test gear.
Globalmediapro offers many products under their original manufacturers' brand, which are otherwise only available at higher prices from third party brands; tripods, lights, video monitors, converters, prompters, etc.
Globalmediapro recognizes the need for affordable and reliable professional equipment, especially during the current hard economic times. Globalmediapro batteries and chargers are famous for their reliability as well as their low prices and provide videographers worldwide the opportunity to power their cameras without having to cut down on other important equipment such as cameras and lenses.
The Globalmediapro website provides the unique possibility to see cross-brand compatibility connections between products. Each product page on the website shows a list of Compatible Products.
We would like to thank Globalmediapro for supporting our free Pechorin's Audio and Video Discussion Forum and we recommend that you as a visitor take note of Globalmediapro offers.
GLOBALMEDIAPRO BATTERIES FOR RED CAMERAS
Back in 2008, Globalmediapro was quick to offer batteries specifically designed for RED cameras. There currently are three models 160, 190 and 230WH and two new model are being developed: 2 x 95WH Buddy System and 95WH high power model. In 2010 Globalmediapro's R series was sucessfully tested with new RED Epic and RED Scarlet cameras.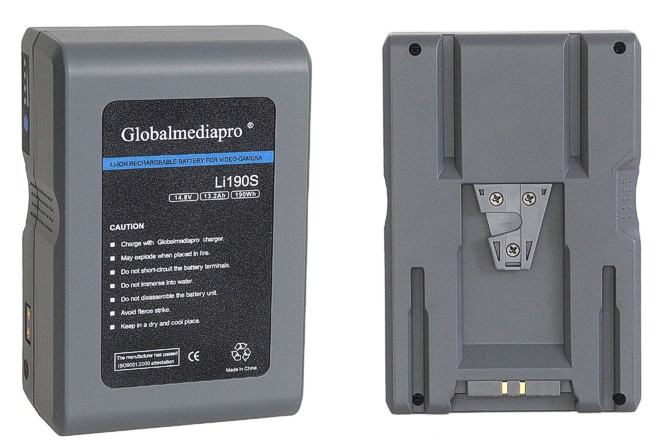 Globalmediapro Li190S-R V-Lock battery for RED cameras
2011 ISA World Surfing Championship in Panama
Globalmediapro sponsors two top upcoming surfers, Zen and Tane Wallis, to the 2011 ISA World Surfing Championship in Panama. This is the Olympics of surfing where surfers from 30 countries compete for gold medals.
---
Back to Home page